GUIDE TO BENCHTOP SELECTIONS
ANATOMY OF A BENCHTOP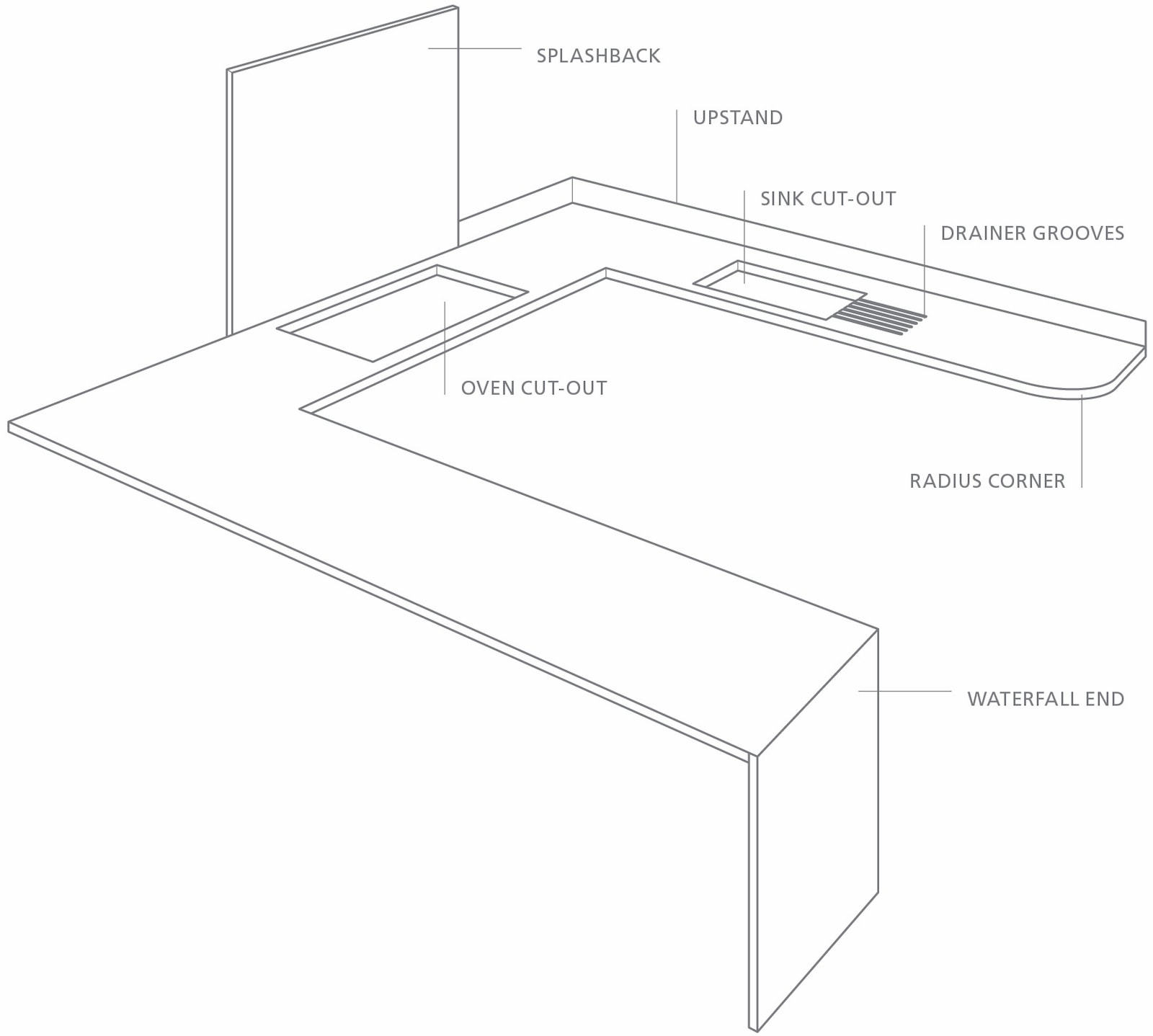 SURFACE EDGE DETAILS
Advantages:
Cost effective
Easier to work with and lighter than stone – so easier to install
Quicker manufacture time and can be installed at time of cabinets
Great range of colours (can emulate natural stone, concrete or timber)
Range of finishes – Gloss/Textured/Matt
Disadvantages:
Not as durable as reconstituted stone or solid acrylic
Not always scratch resistant and cannot be repaired
Can swell if water penetrates any joins or substrate
SOLID ACRYLIC SURFACE
Advantages:
Made from a combination of acrylic copolymers and formed from a mould that can take any form or shape.
Versatile – Designs can be routed into it, and it can be illuminated.
Seamless – Great for long benchtops, where with laminate or stone, joins would be visible.
Homogeneous – The actual colour of the solid acrylic goes right through the product
Easy to repair if it's chipped or scratched
Non-porous, hypoallergenic, and can be used outdoors.
Disadvantages:
Vulnerable to heat and strong chemicals
Costly
Needs to be constructed by an authorised manufacturer
NATURAL STONE
Advantages:
Unique (no two pieces are the same)
Choice of your own unique slab
Granite – hardwearing
Disadvantages:
Some natural stone is porous and doesn't like acidity – particularly marble
Prone to Staining
Maintenance is also a consideration as it needs to be resealed regularly.
RECONSTITUTED / ENGINEERED STONE
Advantages:
Uniform appearance
Add value to your property when selling
Relatively stain-resistant and scratch-resistant
Good warranty on reputable brands
Disadvantages:
Not suitable for use outdoors
More expensive than laminate
MODERN KITCHENS NORTHSIDE
Modern Kitchens Northside are the go-to company for all your Brisbane custom kitchen needs with all of our kitchens built onsite to order by skilled craftsmen using quality materials. When we say custom we mean it, no matter the shape, size, colours and configuration your kitchen will be designed and built to fit your location. Everyone has different tastes or preferences, this is no different when it comes to your kitchen. We'll help you obtain the kitchen that reflects you and the feeling you want to develop in your home. Got a kitchen dream? We can make it happen.


YOUR KITCHEN RENOVATION COMPANY
Brand new kitchens are our thing! With many years' experience, we make every new kitchen smooth sailing. It's as easy as 1, 2, 3…