5 Popular Kitchen Styles to Consider for Your Brisbane Home Renovation
5 Popular Kitchen Styles to Consider for Your Brisbane Home Renovation
Renovating your kitchen is an exciting project that can breathe new life into your home. One of the most crucial decisions you'll make is choosing a kitchen style that suits your taste and complements the overall aesthetic of your home. With so many styles to choose from, it's easy to feel overwhelmed. That's why we've put together this guide complete with quotes from leading designers and home decor writers from around the globe to help you explore the five most popular kitchen design styles we're seeing in Brisbane. Whether you prefer a classic and timeless look or a sleek and modern design, this article has got you covered. So, let's dive in and discover the perfect kitchen style for your home renovation.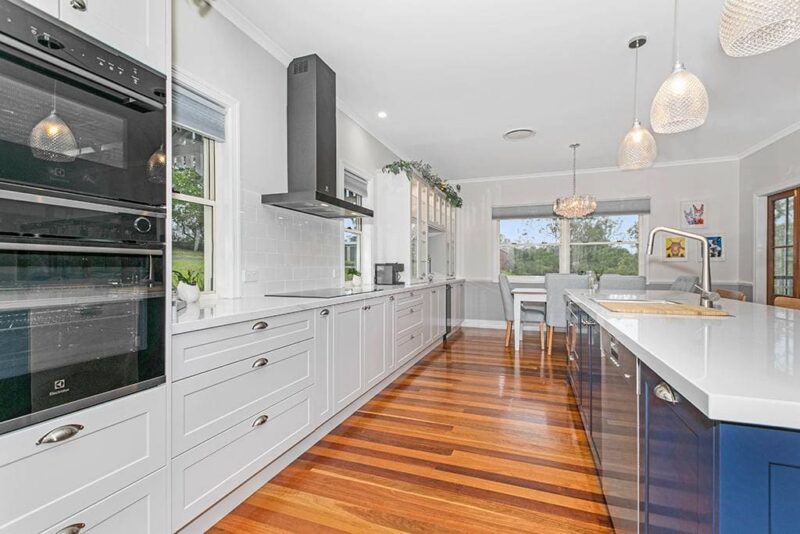 Hamptons Kitchen
If you're looking for a kitchen style that exudes elegance and class, then you might want to consider the Hamptons kitchen. This style has become increasingly popular in recent times and is recognized for its stunning design elements such as the routed profile door with a 45-degree angle in the profile. Popular cabinetry colours are white and navy, or white and grey – although the 2PAC finish means any colour combination is possible – and usually paired with a veined stone benchtop, giving it a classic and modern look. One of the great things about this style is that it creates a calming timeless feel in any home, making it an ideal option for homeowners who want to add a touch of sophistication and style to their kitchens. With its classic design, a Hamptons kitchen can blend in seamlessly with different home styles, making it a perfect choice for anyone who wants a kitchen that's both functional and beautiful.
"Hamptons interiors are usually spacious with generous proportions, holiday home-like and nautical-inspired," "Generally speaking, these homes make entertaining easy."  says Lydia Maskiell. 
Refined Yet Relaxed Feel
A Hamptons style kitchen tends to attract those who appreciate the fusion of timeless elegance with a modern, coastal flair. This style often appeals to those who enjoy the finer things in life and have an eye for sophisticated design. The Hamptons style exudes a refined yet relaxed feel, making it a popular choice for those who desire a touch of luxury in their homes.
Common features:
Routed profile cabinet doors with a 45-degree angle in the profile

Cabinetry finished in white or navy, or white and grey with a veined benchtop

Natural light or soft lighting that illuminates the space

Decorative touches such as crown molding, shaker-style cabinets, and subway tiles

Classic and timeless design with a coastal or seaside feel

Farmhouse Kitchen
Looking for a kitchen style that offers rustic charm? The Farmhouse kitchen style might just be what you're looking for! With its border featuring a VJ inset and detailed elements at the top of the cabinet, this style is reminiscent of a simpler time. You'll often find Farmhouse kitchens finished with timber or timber-look benchtops, natural or engineered stone benchtops and painted in muted colours. The design offers a traditional feel that is cosy and inviting, making it perfect for homes with rustic or country charm. If you're searching for a kitchen style that feels like a warm hug, then the Farmhouse style might be perfect for you!
"It's really about a lifestyle and bringing that simpler, clean aesthetic to a home, and really focusing on what matters the most," says Becky Shea Design 
Tradition and Warmth
A farmhouse-style kitchen appeals to those with a love for rustic charm and an appreciation for the simplicity of country living. This style is ideal for those who value tradition and warmth in their home, and who seek a cosy, inviting atmosphere to gather with loved ones. The farmhouse-style kitchen speaks to those who desire a sense of nostalgia and a connection to the past, while still maintaining a timeless elegance.
Common features:
Rustic and charming design

Border with a VJ inset and more ornate detailed elements at the top of the cabinet

Often finished in timber/timber look benchtops, natural/engineered stone benchtops, distressed finishes or painted in muted colours

Provides a traditional feel that is cosy and inviting

Fits well in homes with rustic or country charm

Modern Kitchen
If you're all about sleek, clean lines, you'll love the Modern kitchen style! This look usually features plain white cabinetry and benchtops, and no handles for a minimalist, clean aesthetic. It's a versatile look that can easily fit with various home designs as it provides a safe blank slate for home styling through decor. The Modern kitchen is perfect for those who want a streamlined, uncluttered, and easy-to-maintain space that still looks stylish and chic.
"What distinguishes it so much is that it is an ever-evolving design style, versus some of the ones in history where they have a very set time period and a very specific set of rules that they're referring back to," says Erin Sander 
Sleek and Uncluttered Aesthetics
The modern style kitchen appeals to those with a discerning eye for modern design. The sleek and uncluttered aesthetics of this style resonate with those who appreciate the beauty of simplicity. It's perfect for those who enjoy a minimalistic lifestyle and prefer a space that reflects their appreciation for clean lines and neutral colours. The modern kitchen style attracts a diverse demographic, including young professionals, urbanites, and those with a love for cutting-edge design.
Common features:
Plain white cabinetry with no handles

White benchtops

Sleek and modern design

Minimalistic and clean look

Adaptable to various home styles
Industrial Style
Looking to add a unique and trendy touch to your kitchen? Consider the Industrial kitchen style, which combines natural and industrial elements. With its matte black finish, timber grain, concrete look engineered stone benchtop, and hints of copper and metal throughout the fittings, the Industrial kitchen style offers a raw and edgy look that will certainly make a statement in your home. It's perfect for those who want to experiment with different textures and finishes to create an interesting focal point in their kitchen. Give your kitchen a fresh, modern feel with the Industrial kitchen style.
"The industrial home design style embraces exposed architectural elements like pipes, brick, and concrete, and minimalist design philosophy." says Kelly Wearstler 
Beauty in Unconventional Combinations
The Industrial kitchen style appeals to those with a creative and bold spirit, who appreciate the unique beauty of raw materials and rugged finishes. It is favoured by urbanites with an eye for edgy design, who seek to bring a touch of industrial chic into their homes. The style suits those who value a blend of natural and man-made elements, and who appreciate the beauty in unconventional combinations.
Common features:
Matte black cabinetry with a timber grain or distressed finish

Concrete look engineered stone benchtops or stainless steel benchtops

Hints of copper or metal throughout the fittings and fixtures

Exposed brick or concrete walls

Open shelving or wire racks for storage

Pendant lighting with an industrial feel

Minimalistic design with a focus on function and practicality.

Traditional Kitchen
Looking for a kitchen style that's timeless and classic? Then the Traditional kitchen style might be just what you need. With options ranging from a semi-gloss laminate door to a matte laminate door with laminate benchtops, there's something to suit every taste and budget. Traditional kitchens are cosy and warm, offering a comfortable space that's perfect for spending time with family and friends. And with finishes that can complement any home style, the Traditional kitchen style is a great choice for any home renovation.
"A traditional interior design scheme is timeless and placeless, comfortable and put together but not overly fancy. The kinds of furniture, textiles, colour palettes, and décor used in traditionally designed rooms reference history and are familiar rather than trend-setting." says Kristin Hohenadel 
Warmth and Familiarity of Classic Design
The traditional style kitchen is timeless and transcends generations, it appeals to those who appreciate the warmth and familiarity of classic design, and who value the comfort and familiarity of home. It is a style that is appreciated by those who cherish family traditions and the simple pleasures of life, yet also by those who seek the beauty and grace that comes with understated elegance. The Traditional style kitchen is for those who value craftsmanship, quality, and the enduring appeal of the past.
Common Features:
Semi-gloss or matte laminate doors

Laminate benchtops

A range of colours to suit any home style

Classic and timeless cabinet style

A range of handle options available, including classic knob

Some traditional styles may include raised panel doors or decorative moulding on the cabinets.
Picking a kitchen style for your Brisbane home renovation can be a daunting task. But don't worry, the perfect kitchen style for your home is out there! It all comes down to your own personal style and preferences. It's important to weigh the pros and cons of each style before making a final decision. Seeking the advice of a professional kitchen designer is also a fantastic way to gain valuable insights and get the help you need to make an informed decision. With some careful consideration and expert guidance, you can find the perfect kitchen style to suit your taste and budget.
Modern Kitchens Northside Showroom
If you're considering renovating your kitchen, visit Modern Kitchens Northside showroom in Lawnton. Our team of experienced kitchen designers will help you navigate the vast design and material options to achieve the desired feel and style of your dream kitchen. With over 20 years of joinery experience, we pride ourselves on customer service and satisfaction. Call us today to book a free showroom consultation on 07 3889 9054.