With the ease and beauty of the country bringing life to the everyday home, it is no surprise that farmhouse styling has become highly popular over the past few years.
An increasing number of Australian homes are discovering the love for the laidback yet trendy style of farmhouse styling. Farmhouse style can transform the inner city home into the perfect escape to the country using an eclectic blend of materials, colour palettes and decor options.
What is Farmhouse style?
Though being found in homes in past decades, farmhouse style is fast becoming a coveted choice for many home decorating enthusiasts wanting to bring the beauty of a day into the country to their home space.
Originating in past eras where practicality and necessity were the primary household aims, today's modern spin on farmhouse style has kept these concepts at the forefront in its class and design while adding natural beauty and feel to it that can suit any home.
Farmhouse style allows the freedom to blend an eclectic choice of decor materials, beautiful texture and complementing colours that all represent the rustic architecture of this popular style.
Embracing today's modern comforts, past farmhouse style has evolved from its initial use of primarily outdoor material and hand-refined surfaces.
Today, farmhouse style can be adapted to suit the individual's taste by adding a personal spin to the popular style through natural materials such as wicker, stone, reclaimed wood for flooring and furniture and various stunning cotton and earthen feel upholstery.
What are the colour palettes of Farmhouse style?
Complementing the relaxed feel of the country, the colour palette of the farmhouse style is primarily natural in choice options, flooring and paint choices to feature furniture pieces building this beautiful style.
Farmhouse style is simple and aesthetically pleasing in the home through the use of neutral colour palettes, both warm and cool. These base colours are the perfect foundation to build farmhouse style upon with the introduction of natural greens, blues and a wide variety of earthen tones. Mixed with splashes of the rustic flair of wood and metal used throughout the home in finishings, flooring and furniture, farmhouse style is a simple yet stunning style that can be tailored to suit any home and taste preferences.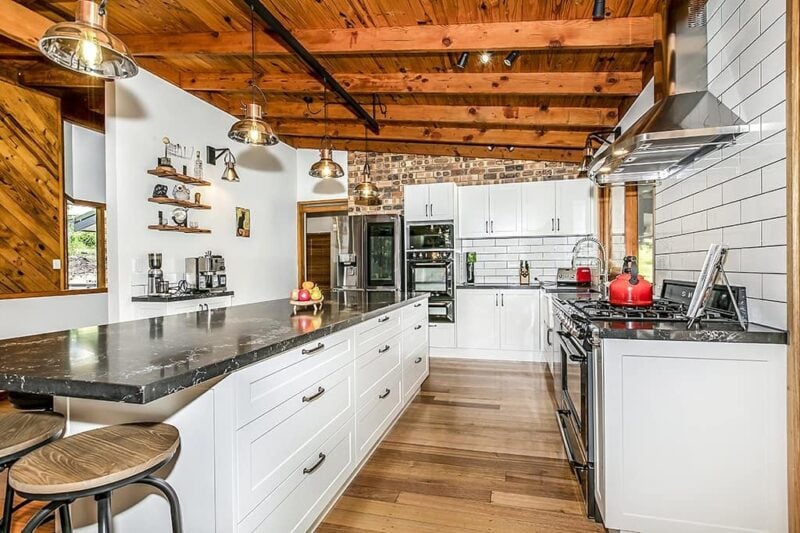 What is a Farmhouse style kitchen?
Embracing the charm of rustic imperfection, a farmhouse style kitchen is the featured centrepiece of the ever-popular style. Casual and welcoming in feel, a farmhouse style kitchen is adorned by its use of natural colours, earthen textures and finishings that bring the desired country feel to suburban living. Farmhouse style can be both traditional and contemporary through the various choices available in panel molding, cabinetry options and open shelving that brings an expansive feel to the kitchen layout.
A special feature of the farmhouse style kitchen is the incorporation of a kitchen island that only adds to the pleasing aesthetics of this style. An inviting atmosphere centred around connection and food preparation, the kitchen island is usually surrounded by rustic-styled stools that welcome family and guests to the relaxing space.
The choice of cabinetry in a farmhouse kitchen can be the deciding factor in the plan for a classic or modern finish to the style. For example, the timeless beauty of white cabinetry speaks of traditional farmhouse style in every way. Complemented with a stunning dark granite kitchen island and surrounding bench tops, the farmhouse kitchen is visually and practically appealing as the heart of the home.
Finishing touches such as simple wood door knobs, stunning wooden flooring and industrial-style feature items such as lighting pendants make farmhouse style kitchens a popular choice in modern home styling in Australian homes.
What is the difference between Farmhouse style and Hamptons style?
Both popular styling choices in Australian homes, Farmhouse and Hamptons styles have both similar and contrasting decor elements. As their names suggest, Hamptons style beckons from the seaside bringing the calm that comes from its beach-inspired features. In contrast, farmhouse style oozes the rustic charm of a cozy weekend away, enjoying the cottage cabin lifestyle.
Alongside the varying vibes from the land and sea, some distinguishing factors set the two well-known styles apart. The hallmarks of the Hamptons style are found in its use of natural light, space and ocean hues throughout, while farmhouse style is renowned for its country feel resulting from its earthen tones and use of reclaimed wood and natural materials.
In the kitchen, Hamptons style can be typically recognised by its panelled cabinetry, often finished in white with secondary colours of navy or grey complementing the neutral colour palette. A farmhouse style kitchen can often have similarities to a Hamptons style kitchen but is set apart through its earthen colour palette of greens, blues and neutrals. These colour variations are complemented by ornately detailed elements such as corbels, capping molding and industrial feel materials for finishings such as pennants and handles.
Whether the aim is for coastal elegance or rustic charm, both Farmhouse and Hamptons styles can be tailored to suit both classic and contemporary homes.
With simplicity and practicality at the heart of true farmhouse styling, this style is becoming a popular trend in home decor. From its welcoming feel to aesthetically pleasing use of natural materials and rustic finishings, farmhouse style can be outworked in a classic or contemporary spin that reflects the tastes and personality of each home.
Modern Kitchens Northside are experts in farmhouse kitchen styling. Our team of Brisbane kitchen renovation specialists will walk you through your plans from beginning to end, ensuring you get the best result in style, colour and functionality for your home.
Call Modern Kitchens Northside today on 07 3889 9054 to book your free consultation and showroom tour.